DC12-24V 10A 16/18CH Dynamic Staircase Controller Wiring-Free RL-STPE-05
---
100% original guarantee
Return within 30days
Free delivery on all orders
This stair light controller has more modes than others. With 2pcs PIR motion sensors, it senses your movement up and down the stairs, and then automatically turn on the LED step lights. You can use this controller to make multiple stair light effects. 

The controller comes with a main wire to connect various 2-pin single color LED strip lights, easy to use. By default, this controller has 16 channels. The length between two wire connectors is 13.8", 18ft in total length. 

We provide 3000K/6000K linear dotless COB LED strip in the kit, choose according to your needs. Based on the power of your strip and the number of strip lights to calculate how much capacity power supply you need. The required strip length and strip wire length can be customized by contacting us or remarked when placing an order. 

Conventional wiring VS upgraded wiring

Conventional wiring: Each step needs a separate wire to connect to the controller, the wiring is complicated.

Upgraded wiring: One main wire connects all the step lights, easy to install. Max to connect 99 steps.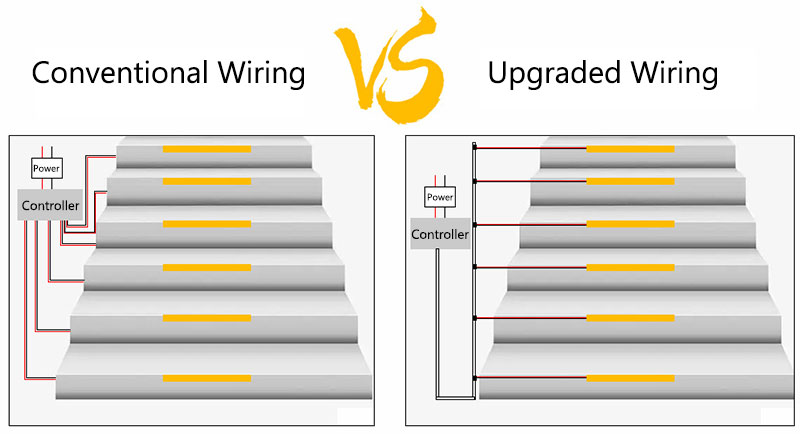 | | |
| --- | --- |
| Modes | Effects |
| FF01 | All step lights on |
| FF02 | All step lights on one by one |
| FF03 | All step lights on with 2pcs steps at the time |
| FF04 | All step lights on with 3pcs steps at the time |
| FF05 | 1 step light on, moving according to the speed setting |
| FF06 | 2 step light on, moving according to the speed setting |
| FF07 | 3 step light on, moving according to the speed setting |
| FF08 | 1 step light chase, moving according to the speed setting |
| FF09 | 2 step light chase, moving according to the speed setting |
| FF10 | 3 step light chase, moving according to the speed setting |
| FF11 | Seperated chase, moving according to the speed setting |
| FF12 | Auto change all modes 01-11 |
Standards and Certifications

Type: Motion Sensor LED Stair Light Controller

Shell Material: ABS

Working Voltage: DC12-24V

Max Current: 20A

Max Steps: 99

Controller Size: 150mm*53mm*20mm

PIR Sensor Size: 30mm*14mm*16mm for surface mount; 14mm*17mm for recessed mount

Power: Each step < 15W; max load 240W/12V, 480W/24V

Function: Mode, brightness, delay time, speed adjustable

Package List: 1*controller, 2*PIR sensor, 2*1m sensor cable, 1*5m extension cord